The North West Emerald
AQHA / APHA
Home of the NW Masters
September 7- 10, 2023
Evergreen State Fairgrounds – Monroe, WA
BUCKLE SPONSOR
*UPDATED 09-01 - NORTH WEST EMERALD
*Updated - Show rules
show fees
masters DETAILS
masterS ENTRY
rv reservations
ALL BREED futurity entry
PREMIER FUTURY
post-ENTRY
post-STALLS
CANADA post-ENTRY
CANADA post-stall
show patterns
trail patterns
WSQHA CONVENTION BANQUET
JANUARY 21, 2023
The 2023 convention will be held at Embassy Suites in Bellevue, WA. The awards banquet will take place Saturday the 21st. Scheduled meetings will take place throughout the day on Saturday (see schedule below). To book a room copy and paste https://bit.ly/3MdYPYP   or call,  800-559-4620 and use code WS5.
OUR GREAT RATES END December 31st SO RESERVE YOUR ROOM TODAY!
Last year's dessert auction was so much fun the amateurs decided host one again! If you would like to donate an item for the dessert auction that would be greatly appreciated. Donating a dessert to the auction will count towards amateurs 2023 year end award requirements.
Schedule
9:00-12:00 Youth meeting:  Chancellor Room
3:00-4:00   General Meeting:  Chancellor Room
5:00-6:00   Happy Hour/Reception: Atrium 1
6:00-8:00   Dinner and Awards Presentation:  Ambassador Room
PILCHUCK TRAINER'S INVITATIONAL SHOW
February 4 – 5, 2023
Evergreen State Fairgrounds, Monroe, WA
The purpose of our Practice show is to offer patterns and rail classes to prepare you for the 2023 Show Season at a premier facility. Schooling and Schooling equipment are allowed. Show clothes are optional. This is a private event due to the one day venue and limited stalls . Awards to first place and ribbons through 5th– Judges are volunteers as this is a practice show. You must attend with your invited trainer. Stalls must be prepaid on line by January 15th —No Haul ins
WSQHA All Breed
TRAINER INVITE
Show rules
POST-ENTRY
PRE-ENTRY INTERNATIONAL
POST-STALLS
PRE-STALLS INTERNATIONAL
SHOW PATTERNS
Washington State Finals
AQHA Rookie, AQHA Level 1 and All Breed Show
September 22-24, 2023
Evergreen State Fairgrounds, Monroe, WA
Over 60 Buckles AWARDED!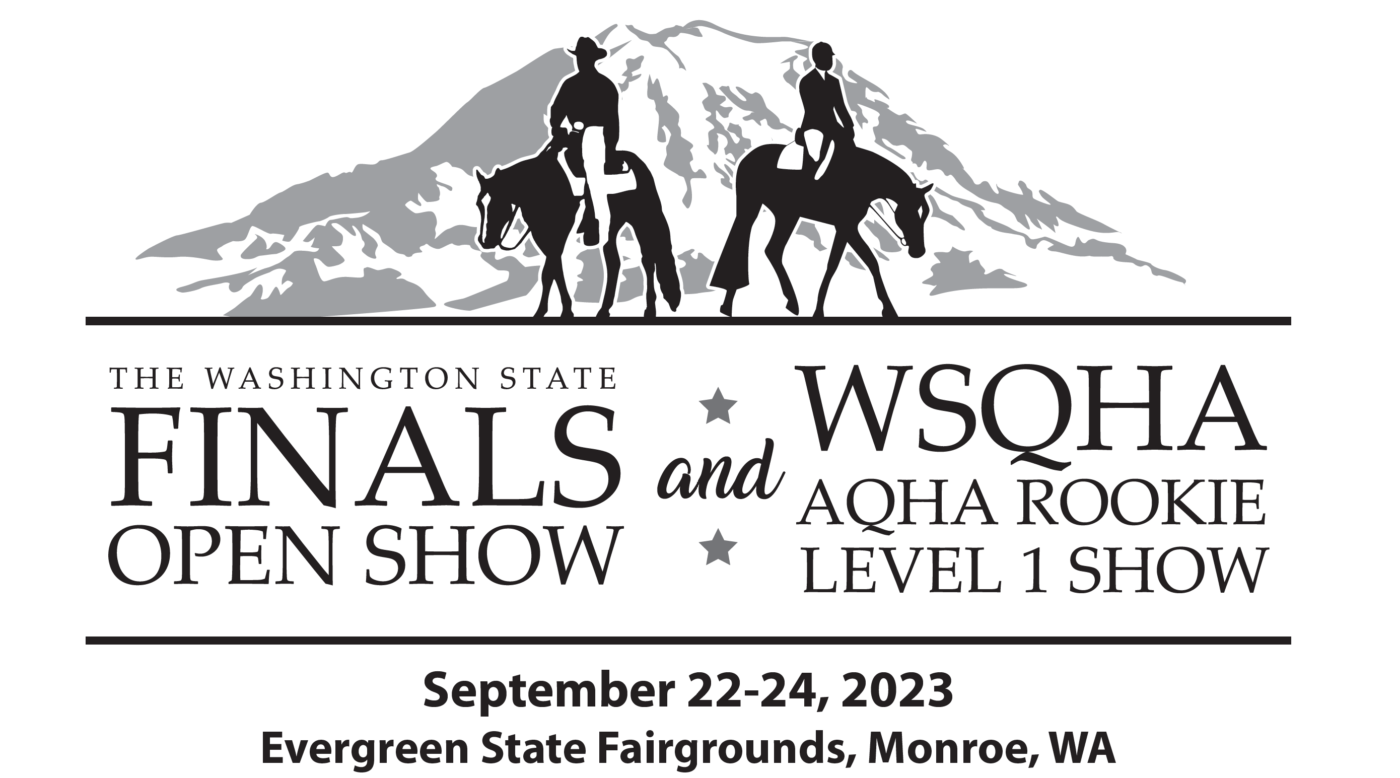 SHOW PREMIUM